President Emmerson Mnangagwa on Thursday called for an independent investigation into the violence.In a series of tweets, Mnangagwa confirmed that he was in talks with opposition leader Nelson Chamisa in an effort to "diffuse the situation.""We believe in transparency and accountability, and those responsible should be identified and brought to justice," he added.The violence, which tainted the country's first election since the toppling of veteran leader Robert Mugabe, prompted statements of concern from the United States, the United Nations and the United Kingdom.On Thursday morning, there was uncertainty over whether protesters would take to the streets again, as armed military police patrolled the capital Harare, where Wednesday's violence had broken out.Soldiers spent Thursday morning clearing the central business district of Harare, warning people to leave by noon. Taxi ranks were full with commuters attempting to find a way out. Zimbabwe is anxious to ensure that the elections are considered free and fair in order to lure foreign investment and resuscitate the country's ailing economy. President Mnangagwa's ruling Zanu-PF party won a sweeping majority in parliament, electoral officials said, but the results prompted accusations of poll rigging among the opposition.The opposition Movement for Democratic Change insisted that Chamisa, who took over the party's leadership following the death of founder Morgan Tsvangirai in February, won the presidential election."THANK YOU ZIMBABWE," he tweeted Wednesday. "I'm humbled by the support you have given to me as a Presidential Candidate. We have won the popular vote. You voted for total Change in this past election! We have won this one together. No amount of results manipulation will alter your WILL #Godisinit."Hundreds of opposition supporters protested in the streets on Wednesday when automatic gunfire was heard as police and the army attempted to clear the demonstrators. Tear gas and a water cannon were also used as crowds fled the scene.Security forces beat up protesters. Burning tires could be seen on the roadside while armored vehicles patrolled the capital and a police helicopter flew overhead.Mnangagwa responded to the unrest by urging his country's political leaders to pursue a peaceful resolution to the uproar."As this day that ended in tragedy comes to a close, I implore all political and community leaders to utter these words loudly and clearly to all those who follow them – 'Seek Peace and Pursue it!'" he tweeted.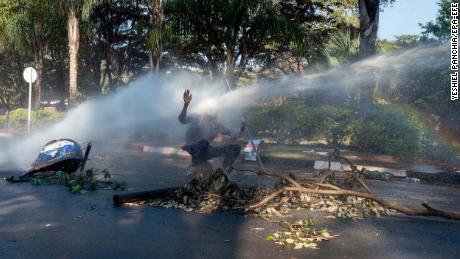 International concern
Earlier he had blamed the MDC for the violence, saying its party leaders had abetted "acts of political violence." The US Embassy in Harare, the UK and the UN issued statements saying they were concerned about the unrest."We urge leaders of all parties to call for calm from members of their respective parties. We further urge the Defense Forces of Zimbabwe to use restraint in dispersing protestors," a US Embassy statement said. A statement from UN Secretary-General António Guterres's office said: "We call on the political leaders and the population as a whole to exercise restraint and reject any form of violence."UK Foreign Office Minister Harriett Baldwin called for calm, saying that London was monitoring events in the former British colony."Call on Zimbabwe's political leaders to take responsibility for ensuring calm & restraint at this critical moment," she tweeted. "We're monitoring the situation closely."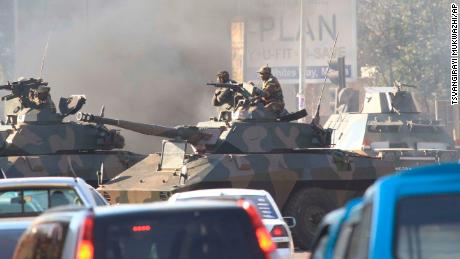 Officials have so far declared only the results of the parliamentary vote, which gave Zanu-PF two-thirds of the seats. International monitors called on the electoral commission to publish the results of the closely fought presidential race.The Zimbabwe Electoral Commission said that Zanu-PF had won 140 seats so far, and the MDC Alliance 58, ZBC state media reported. There are 210 seats in the National Assembly's lower house.Later the commission tweeted it had announced the results of 207 constituencies, without giving further details about the votes. "The results of the remaining 3 constituencies and presidential results will be announced within 5 days from polling day as stipulated by the law," it added.On Thursday morning the commission's website was down. Reports said it had been hacked during the night, with pictures of injured protesters posted on it.Heike Schmidt, associate professor in modern African history at the University of Reading in England, said the official results would probably be respected."Considering that there were major flaws in the 2008 elections that nevertheless led to a government of national unity, it is most likely that that the official results will stand," she said."The question now is whether the MDC and its leadership are able to represent their voters in parliament so that Zimbabwe finally has a strong opposition in government again, for the first time since 1987."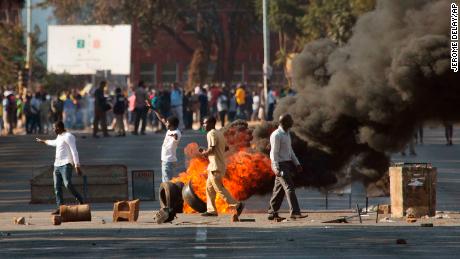 Severe challenges
Mnangagwa, 75, took power after helping orchestrate a de facto coup against Mugabe in November. He has tried to rebrand Zanu-PF, pledging to heal divisions and rebuild the country. Known as "the crocodile" for his political cunning and longevity, he is still widely considered to be Mugabe's man because he worked so closely with the former leader for more than 40 years, first as his special assistant during the 1977 liberation war, and later as security minister and justice minister.Chamisa — the country's youngest-ever presidential candidate — has aimed to appeal to younger voters with promises of electoral reform, tax cuts and jobs.While his message may strike a chord, he does not have as much backing as Mnangagwa from the security forces and military, which oversaw Mugabe's departure.Responding to Wednesday's unrest, Chamisa's spokesman said that protesters were not violent and the deployment of soldiers was unnecessary.Zimbabwe faces severe challenges as it seeks to recover from an economic crisis dating back to Mugabe's rule.
CNN's Bard Wilkinson, Lauren Kent and Eliott C. McLaughlin contributed to this report.